Become the Speaker you've
always wanted to be!

Presentation Skills Coach
Speaker
Speechwriter

Enhancing

your current skills while removing any fear of speaking before large and small groups
Helping you

create

your presentation
Being your

speechwriter

if that's what you need
Informing and entertaining your organization as a

speaker

for your next event
BRAND NEW! NOW AVAILABLE!
Find Answers to your questions about public speaking!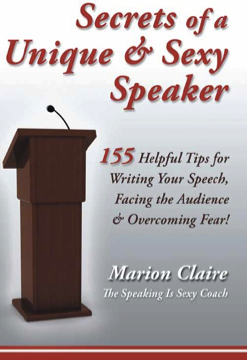 If you're one of the thousands who hate to give a speech or want to speak better, these Tips are meant for you. They will demystify and neutralize many of the reasons why people run in the other direction when they're offered the opportunity to speak.

What's the best way to calm the butterflies before you speak?

Should you open your speech with a joke or a story?

What should you do if you forget something important?

How do you overcome your fear of speaking to large and small groups?
Here, in an easy to access format, you'll find techniques to create and deliver a speech for every occasion, overcome pre-speech nerves, avoid tripping over your tongue, and always look and feel like a Unique and Sexy Speaker.
You speak in public every day. Whether you're giving a speech, having a conversation, saying your wedding vows, exhorting your sales team, or talking in your sleep, if someone is listening, you have the opportunity to influence and to inspire.

Being influential and inspirational!
That's very sexy!
Get your autographed copy right here, right now!
Don't want your copy signed? You can also go to www.BalboaPress.com or your preferred online bookseller.
Contact me at SpeakingIsSexy@aol.com and let me know how you like SECRETS of a UNIQUE & SEXY SPEAKER. Your thoughts are extremely valuable to me! I'd like to hear from you.
New to our site? Welcome!

Click here to get your Free Report
"5 Magic Keys to Creating Any Speech"

*Already a subscriber? Click here to get the report!
For over fifteen years, I have helped clients all over the world improve their speaking, presenting, writing and networking skills. I coach management executives, entrepreneurs, artists and professionals who want to overcome their anxiety and learn to enjoy public speaking. .
Learn to speak like a pro!